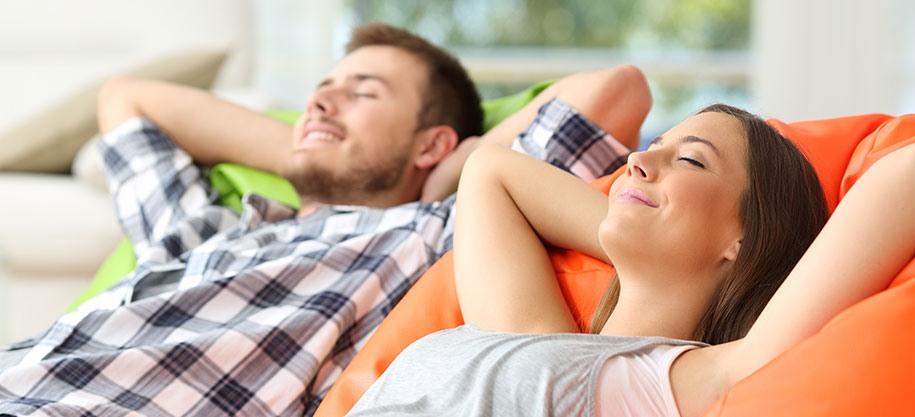 Always fresh and clean air, free of pollution, pollen, insects, dust.
We are aware how important is the access to fresh and clean air. Due to this reason, all houses include a recuperator, which ensures the appropriate ventilation of the interiors. A pleasant microclimate at your house will result in a better mood of its residents, especially people suffering from allergies or other respiratory diseases. This solution guarantees a comfortable ventilation of the buildings, along with heat recovery.


The air handling unit ensures a series of benefits to its users. Its key advantages include:

Savings of thermal energy
Cross-counterflow heat exchanger provides a recovery up to 90% of heat from the exhaust air

Smaller loss of cool air during summer
There is no longer a need to open the windows on hot days. The cold accumulated in the house will be recovered by the air handling unit

Fresh air 24/7
This efficient device provides a 24-hour air exchange circulation, therefore the air is always fresh and clean

Prophylaxis
Fresh and clean air, which is free of contaminants, pollen and insects, is the result of high-quality filters

Simple use
Design of this device ensures convenient access to filters, the replacement of which does not require the removal of casing

Convenient control
This device can be controlled with the use of a remote control, remotely or with the use of the device's panel, with the option of setting the device's operation in different modes

High living comfort
Space that is free of pollution, moisture and mould, plus continuous 24/7 access to clean air, without the need to open the windows

Safety
This device includes a built-in sensors of moisture, CO₂ and VOC (sensor of pollution), which result in its increased usefulness

Quality
A renowned brand and high-quality ventilation system guarantee that this device will be efficient for many years to come

The device constitutes an alternative to the standard ventilation of rooms consisting of opening the windows. This modern solution is more cost-effective and ecological, while at the same time it provides a series of benefits for the health and well-being of household members. The air handling unit allows for the air to be removed from damp rooms, e.g. from bathroom or kitchen, thus eliminating the problem of moisture and mould. Moreover, during the air exchange, this device draws fresh air from the outside, filters it and delivers it to all rooms.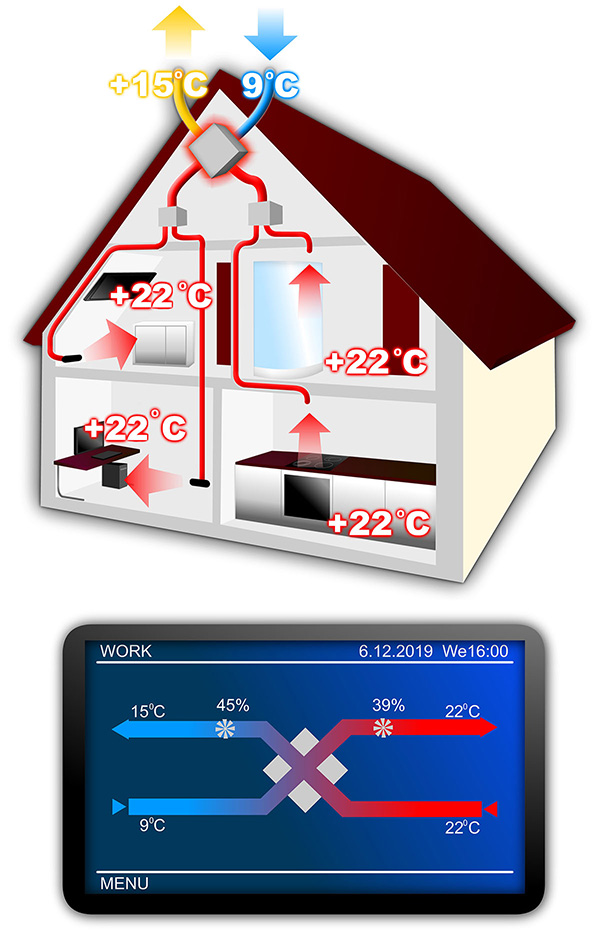 The most important characteristics, which ensure the advantage of this solution over the conventional ventilation of interiors, include:
24/7 air exchange
The system is able to operate 24 hours a day, 7 days a week, and additionally, it is possible to set various modes, e.g. night mode, weekly mode, monthly mode, holiday mode, etc
Better air quality
Special high-quality filters ensure the supply of fresh air, which is free of pollution, pollen, dust, as well as insects. Moreover, this device removes moisture, so in result it protects the rooms against mould
Reduction of heating costs
This device provides a perfect air exchange in airtight rooms, which in result effectively reduces the cost of heating.
In conclusion, this is an excellent system of interior ventilation, which allows to create a pleasant microclimate. All rooms in the house are properly ventilated, while the interiors with increased humidity are free of the risk of mould occurrence. This solution is especially recommended to people suffering from allergies and those struggling with chronic respiratory diseases. However, the comfort of living in a house, which is always filled with fresh and clean air, can be appreciated by anyone, who cares about his/her own health and the health of his/her loved ones.


In the case, when the manufacturer withdraws or changes this model, or when the manufacturer withdraws this device from distribution or service, another model (of this or another manufacturer) will be provided with similar parameters, in accordance with the construction project.